Dot Dash 3 Website


Role: UX Designer & UI Designer



Description: DOT DASH 3 is an art website that aims to merge the worlds of art and technology together. It features 3D imaging software that allows artists to display their work in an interactive 3D virtual gallery.

Challenge: The challenge is to improve the purchasing usability, increase new user engagement and showcase 3D technology.

Solution: After user testing and heuristic evaluation on the current website, we've decided that a new site flow and content structure could solve some of the challenges. Also, an additional solution was to combine the 2D and 3D interfaces to create a seamless flow for the user.


Usability Testing, Freeback, and Findings
We asked real users to complete a few tasks to see if they encounter problems and experience confusion with the current website. We also conducted a survey to see how users buy artwork.



User Interviews Findings

We had 5 users testing the current website and the findings from our testing were:
More details were needed about the displayed artwork in the virtual galleries

Additional information helps the user feel connected to a particular piece of art before they feel comfortable enough to buy the art from the website.
Survey Findings
90% of users tested visit museums & galleries to explore the exhibits

70% of users tested also visit museums & galleries to learn about the artists

Digital mediums were the four main resources referenced as used for keeping up with currently active artists
Competitive Analysis




Competitive Analysis Results
The competitive analysis helped us revaluate the brand goals and understand the market.


Re-evaluate Goals



Scenarios, User Flow Sketches, Features
We sketched out a few user flows based on our personas and scenarios, which allowed us the experiment with intergrading the 2D and 3D experience.




User Flow
After implementing user testing and prototyping we were able to narrow down the best navigational flow.




Wireframes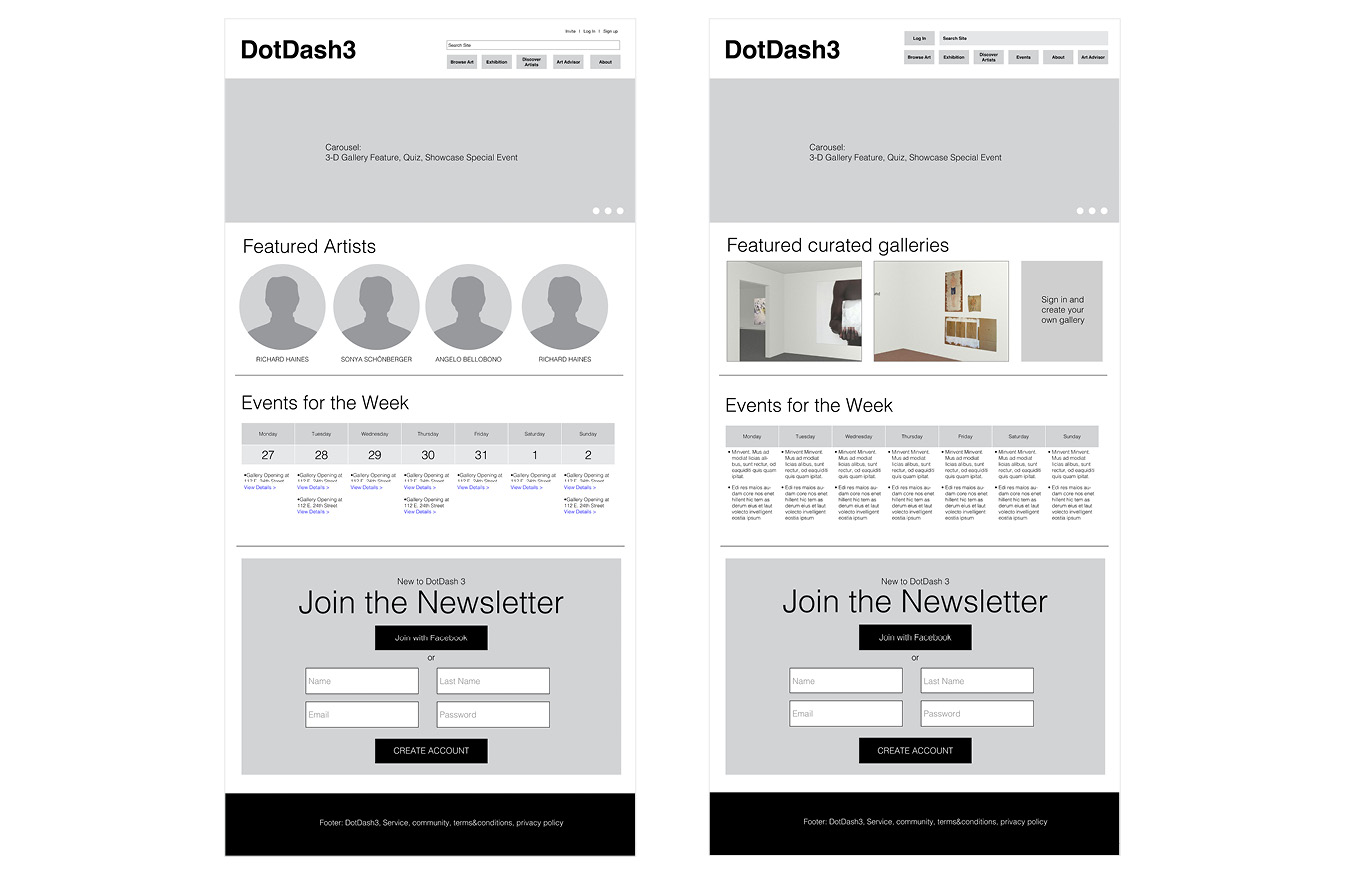 Final Design


More Details:
----------------
Just a few places that I've worked at